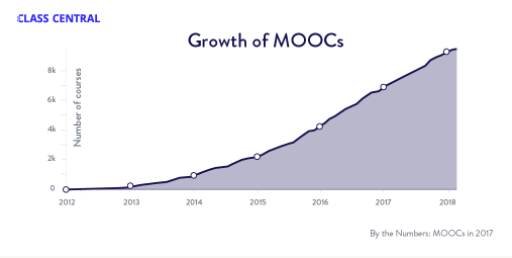 In 2017, the MOOC landscape has grown into 9,400 courses (6,850 in 2016) and 78 million learners, according to data gathered by Class Central.
Around 20 million new learners signed up for their first MOOC in 2017. Over 800 universities around the world have launched at least one MOOC.
This is the list of the top five providers:
Coursera — 30 million users.
edX — 14 million users.
XuetangX — 9.3 million users.
FutureLearn — 7.1 million users.
Udacity — 5 million users (50,000 of them are paying students).
In the Netherlands, TU Delft ran a pilot to let their students earn credit from MOOCs offered on edX by other universities, via a Virtual Exchange program. In 2017, TU Delft signed an agreement with eight other universities. Now, students from this entire group of universities can earn credit for each others' MOOCs.

"The narrative in the early days of the MOOC space was around the disruption to universities. Six years later, we know that MOOCs are not going to lead to the demise of universities. However, according to the previous CEO of Coursera, Rick Levin, while MOOCs may not have disrupted the higher education market, they are disrupting the labor market. The real audience for these courses is not the traditional university student but what Levin calls the "lifelong career learner": someone who might be well beyond their college years, but takes online courses with the goal of achieving professional and career growth," writes Dhawal Shah.
The total potential revenue collected by these platforms now exceeds $65 million, which comes from 7,000 students enrolled, estimates Class Central.
Revenue comes from certificates, micro-credentials, university credit, online degrees, and corporate training.
Free courses –which are increasingly shringking– acted as a marketing channel that feeds customers into other
higher priced products.
edX.org remains the only platform that still offers most of its courses for free.
On the corporate training side, the Coursera for Business service attracted over 500 companies in 2017, up
from  30 last year. EdX for Business is now working with 40 companies.