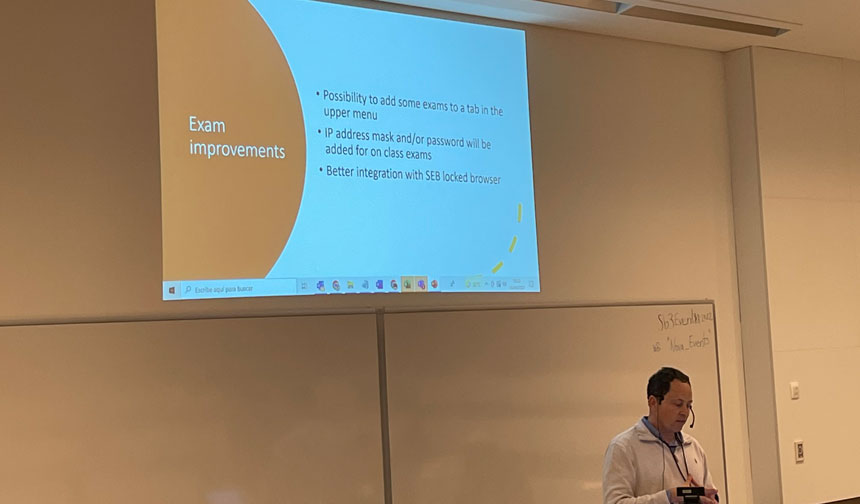 IBL News | Lisbon, Portugal
The three Spanish organization members of the edX Consortium — U3CM, UPV, and UAM — have attracted Government funding to expand the Open edX platform into a Canvas-style on-campus LMS. These developments are part of a new Spanish project to further digitalize their public universities.
This program, called Uni Digital, is funded with the equivalent of $152.6 million. "Our plan is to make the Open edX platform the LMS of choice for on-campus teaching," said IBL News Ignacio Despujol, Professor at the UPV (Universidad Politécnica de Valencia).
Along with Carlos Delgado Kloos and Carlos Alario, professors at the Universidad Carlos III de Madrid (U3CM), and German Montoro, Professor at Universidad Autónoma de Madrid (UAM), he introduced the project at the 2022 Open edX Conference in Lisbon, Portugal, last week.
Their talk, titled "Transforming the Open edX platform into the next on-campus LMS," highlighted the main missing pieces of the platform, such as advanced analytics for students, instructors, and researchers; integration with SIS (Student Information Systems), improvements in interface and usability, gamification, voice assistants, and a Turnitin integration.
The Government of Spain, advised by the three mentioned universities, plans to issue a Request for Proposal (RFP) this summer. The amount dedicated to this project will be below half a million euros.
The features to be developed will all be open-sourced. The goal of the three Spanish universities is to merge the new code into Open edX repositories on GitHub.
Professor Ignacio Despujol was recently appointed as one of the nine members of the Technical Oversight Committee (TOC) that leads the governance of the Open edX platform. [In the picture during the talk.]