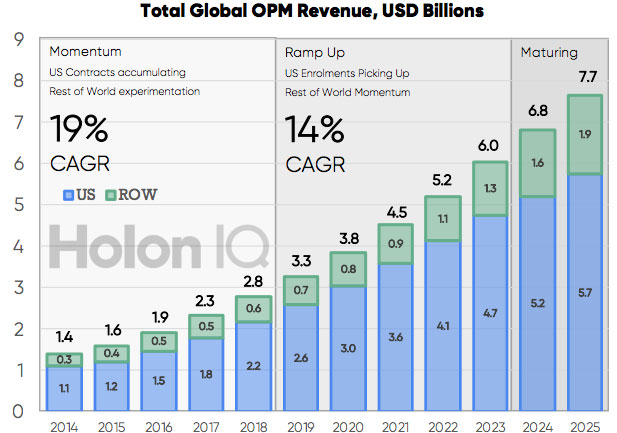 The Online Program Manager (OPM) business, with 60+ providers in a $3B+ market growing at 17%, will reach $7.7B by 2025, according to research by HolonIQ. Increased interest from learners, more offerings from colleges, and wider acceptance from employers will boost this growth.
OPM operators –which are dedicated to helping universities build, recruit for and deliver digital programs– have realized that online degrees are one of the fastest growing areas of higher education.
Revenue sharing is the dominant model in this industry but a fee for service, unbundled and hybrid relationships are growing fast.
Over six million students worldwide pursue higher education online, representing a $30B market today. In the US, online students make up only 15% of all higher education enrollments, while in China it is 10%.
The top 10 OPM players make up over half of global revenue. The US is the largest market by far, and VCs are very active. As recent transactions, we've recently seen how 2U invested in Keypath, Wiley acquired Learning House, Seek acquired OES, Grand Canyon spun out and acquired Orbis, Emeritus raised $40 million.
One of the main uncertainties is whether universities will embrace the OPM model and continue to outsource capabilities, or whether they will seek to build them in-house.