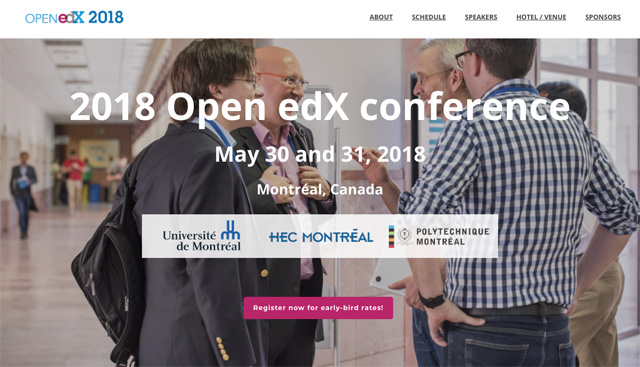 edX launched the 2018 Open edX conference website, which will be celebrated on May 30 and 31 in Montréal, Canada.
The event will take place at the HEC Montreal, Pavillon Decelles, and will be hosted by Université de Montréal, HEC Montréal, and Polytechnique Montréal, the three founding institutions behind EDUlib.
It will discuss: innovative uses across higher education, training, and lifelong learning, instructional design and course production techniques, and methods for operating, extending and enhancing the Open edX platform.
Similar to previous years, the Open edX conference is expected to attract around 300 developers, educators, and decision-makers.
In addition to Anant Agarwal, CEO at edX, a featured speaker will be Zvi Galil, Dean at Georgia Institute of Technology College of Computing.
Tickets, from $220 to $470, can be purchased now at a discount.
Also, the call for proposals has been already opened. Submission deadline is March 2nd.