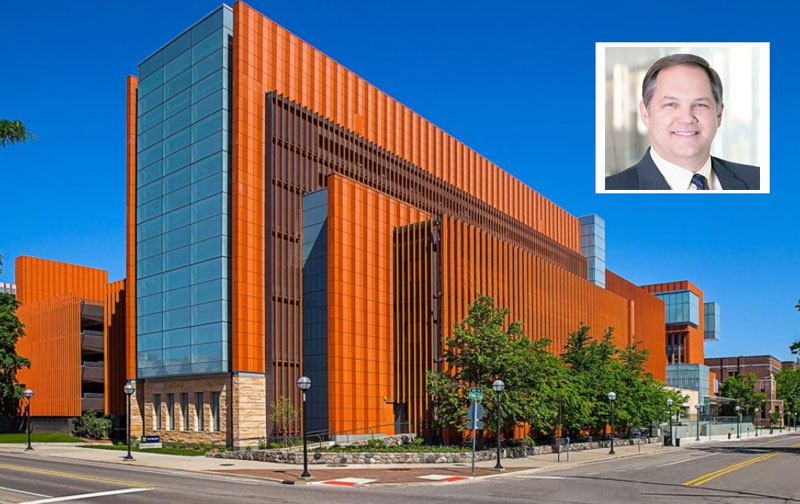 From Laser Disk to Online MBA: Michigan Ross's Mike Barger in Conversation
By Henry Kronk | IBL News
It's commonplace today for institutions of higher education to experiment with online courses and MOOCs. But creating an entirely online degree is another matter. While a significant percentage of professors still doubt online education's efficacy, the University of Michigan's Ross School of Business is currently working to bring their MBA online. IBL News recently got in touch with Professor Mike Barger who teaches in the program and also serves as Executive Director of the Office of Strategy and Academic Innovation.
Before coming to Michigan Ross, Barger served as Chief Instructor at the U.S. Navy's TOPGUN and was a founding member of the airline JetBlue. At the latter, he created JetBlue University, an award-winning corporate training program.
Henry Kronk: What role are you and the Office of Strategy and Academic Innovation playing in the creation of Michigan Ross's Online MBA?
Mike Barger: My experience is business, not traditional academia. Our leadership team decided to create a shared services unit of departments to support the academic program offices. These are typical program offices: MBA, BBA, or Executive MBA, those kinds of things. The Office of Strategy and Innovation is composed of our career office, and our global initiatives office, all of our experiential learning (action-based) offices. So a couple things nice about that: 1) there's now a centralized unit that can support the various programs equally and effectively (previously they reported to different program areas; 2) connecting digital education with experiential learning with our careers office makes for a pretty great opportunity to make sure we're connecting all of the critical pieces of the student experience here together from one office.
Henry Kronk: What experiences did you have—as a student or an instructor—in online learning before coming to Michigan Ross?
Mike Barger: I graduated from the University of Michigan in 1986. I was a pilot before I came to school and I continued my flying in the Navy for 13 years. I was a flight instructor for 13 years. I ran the TOPGUN school for three.
The military was one of the first movers in digital education from disks to smaller disks to other types of digital education. I got some exposure very early on with laser disks and those kinds of things. So I was really intrigued with trying to connect virtual learning experiences to a workforce that was deployed around the world. I started to do digital education before there was really an internet, which has certainly facilitated the process of distributing learning.
When I was part of the startup team at JetBlue, I was responsible for the education and training there. We made some early commitment to JetBlue about new things in the industry like technology in the cockpit, laptops for pilots, and electronic manuals. We were the first airline with an electronic manual system. We also were able to connect that electronic manual system with some early stage digital training that Airbus—our partner—was putting together to train flight crews and flight attendant crews. So really, it was just a natural progression of watching the digital learning space evolve and being in a leadership position at a company that could incorporate digital education methods with digital operating methods. That's where I got my start.
Henry Kronk: Today, a lot of people are drawn to online education because it's more convenient. People can take an online course without needing to quit their job and travel to campus. Let's go back to those early online education efforts in the Navy. What was the drawback then?
Mike Barger: We built early digital education to be basically a digital version of lectures. It was very one-way—pretty much data-dumps of material. We expected students would take the time to absorb it and learn it. Over the last 30 years, we've obviously learned a lot about how people learn. From the early days, when it was very much just another version of a lecturing faculty, now we have the tools available to provide knowledge when knowledge is the appropriate thing to provide. We have opportunities to experiment, practice, apply what you're learning in the virtual environment. And we have social mechanisms to bring people together to learn from each other as much as they learn from the faculty experts. There's been quite an evolution.
Henry Kronk: Polls continue to show that some professors are really gung-ho about online education. Other educators are a little bit more wary, while others are outright against it because they don't think they can recreate the experience in their classroom. If these are two poles of a spectrum, where do you yourself as an educator fall along with it?
Mike Barger: Between my time at JetBlue and coming here to Michigan Ross, I ran a company called CorpU, which was a digital education company that took business school content and put it into the corporate environment. So just naturally, given my experience, I am a believer in what technology has to offer.
My personal take on the faculty that is rejecting the notion that digital education can be valuable and meaningful and effective is they are generally folks who haven't spent a whole lot of time looking at what's available and what it can do. So I think there is a little bit of bias toward what they're used to and the mental model they've created for education. I think that technology gives us the opportunity to sequence learning in a way that is more effective than how we sequence it for the classroom experience. This is the idea of: do pre-work, come to the classroom to do some exercises, and then do home-work afterward—I think technology gives us the opportunity to sequence things in ways that make the most sense, free of the constraints of the classroom.
That said, I do think there's an incredible value in bringing people together and doing things hands-on and face-to-face. But I also know that technology allows me to engage with students individually, in small or large groups. I can track how all of them are progressing. It's easy for me to give them options to explore a topic that they either want to know more about or where they're struggling to understand more deeply in a personalized way. I think technology gives us more options to personalize learning—both the experience and the content—in ways that we just can't do with larger groups in a classroom.
Henry Kronk: How seamless of a transition has this been (to bring Michigan Ross's MBA online)? Was there some faculty who weren't on board? Did it take some convincing?
Mike Barger: Ultimately, Michigan is a premier research institution. The mental model for the faculty here is, "Help me understand the evidence behind what we're trying to do. We're willing to experiment but we want to know what we know about this particular space." There are early efforts to build online courses. These are a little more MOOC-like, a little less engaging, a lot of information push, not a lot of peer-to-peer collaboration or even peer-to-faculty engagement other than the asynchronous engagement of reading materials and watching things. So I think a lot of the early evidence for our faculty here is not very exciting and it's not very convincing.
Part of our process here was taking the time to explore what really does work well, what kinds of experiences are engaging and are effective at giving students opportunities to learn. We're saying, "let's tailor, let's custom-build a collection of tools with a partner that believes in finding the best-in-class abilities across the spectrum of tools rather than partnering with someone who's got a set tool-kit, and we just put our stuff in their tool kit."
So a lot of the early reaction from our faculty was, "I'm not convinced that this is a better way of doing what we do, but it might be as good a way." And we haven't had too many faculty that have said, "I'm not going to give you the chance to convince me." So they're curious.
Henry Kronk: How does the Online MBA break from previous efforts at Michigan Ross to bring courses online?
Mike Barger: We've been playing in the Coursera and edX MOOC space for several years. We have a couple of MOOCs here that are some of the most popular in the world in the finance and leadership areas. We've been experimenting for quite some time. We have an academic innovation office here on campus that helps coordinate digital education efforts across our 19 schools and colleges. So there is a team on campus helping direct these efforts. So this is not brand-new.
Between myself and my head of digital education Eliot Gattegno, we have quite a bit of experience in the digital education space and we feel like we're in pretty a good position to partner with experts across the university and to partner with these technology providers to create something that's really unique and different.
Henry Kronk: Going off that, besides the scale involved, tell me about the challenges you face when it comes to bringing a degree online versus one course.
Mike Barger: Well a degree requires a level of commitment from the faculty across the school. If you're going to create an MBA, we need to have support and commitment from faculty members across all of our departments. That means that everyone needs to feel like there's a value proposition there, that it's worth experimenting, that it's worth the value of their time, that there's not an extreme level of risk in creating something that fails or that cannibalizes the products that we already offer. It is a business school, so lots of our faculty take a business-oriented view of what we're trying to do, and they have lots of questions, as you might expect.
Henry Kronk: What is the Michigan Ross Online MBA going to mean for the average learner? What is this going to let people do?
Mike Barger: I think there is a very large subset of the population out there that either wants to or wishes they had the opportunity to better understand the way business works. What we're trying to offer in the marketplace is a level of quality in instruction and content that these business leaders that don't have the time to take a couple of years off and come back to get their MBA to learn the current best practices and perspectives on how to run an effective business.
We're trying to put out into the market a solution that will be really attractive for folks that aren't just looking to get a University of Michigan degree, but that are looking to get a credential that's meaningful and valued in the marketplace and that actually helps them be a more effective contributor in their current role or their role in the future.
For several years, I've thought the products we created were exceptional. We built our own platform, we made it as easy as possible for learners to find great ways to connect with the material, to each other, to learn things they could apply immediately to business challenges they were dealing with. My big question about digital education at large is do people really want to make their own development a priority? Everything today is so urgent. Professional development and personal growth—it's important, but it's not to many urgent. I do wonder in any kind of education how people are going to make the important as valuable as the urgent.
Henry Kronk: That's a great question. And even—"Are people able to make the urgent important?"
Mike Barger: Well they seem to be able to spend time on Snapchat and Instagram and YouTube and Facebook and all that. It does appear that there is some discretionary time available to fill with something that they would view as valuable.
Henry Kronk: As a counterpoint, and from a zoomed-out perspective, the U.S. sends one of the largest percentages of its population to university in the world. The U.S. also has very high rates of college incompletion. I think another question might be: is that pattern going to repeat online, or is the modality going to allow more people to at least get credentials to allow them to improve their station or even get a masters degree or more?
Mike Barger: The credential question is an interesting one because that will be driven by how they're valued in the marketplace. So the market is going to drive the value of that. I do think, though, that the data, the talent data is pretty compelling on things like the perishable nature of your current skill set. So it appears from the research that a current collection of skills has a half-life of 2 1/2 years or so. So over a five year period, the things that you had learned, the capabilities that you built, just aren't that valuable in the market anymore.
So as you combine the perishability of skills with the fact that folks' commitment to a particular job is getting shorter and shorter—right? Like our parents went someplace and worked there for their career. Now, people are going places for 3-5 years. People who are at business school today are going to have 8, 10, 12 careers. So our thought on digital education is it's not just a great way to provide an accessible highly valued credential while you're still working, but as a follow on to that, the workforces of today and tomorrow are going to need a constant flow of upskilling opportunities. Do we have our eyes set toward how can we offer the most effective, valuable, developmental opportunities for people as they navigate through this changing career landscape?
To the question of, "what is the appetite for what we're doing in the market?" I think MBAs will be valued for a long time. Students do want to be able to tailor those degrees to their areas of interest. Once they navigate that credential, they'll be looking for support to continue to build skills long after they've left university. Our dean here has us pointed toward how do we support careers for the entire professional lives of our graduates, not just how do we get them their next great job.
The Online MBA at Michigan Ross is currently in development and enrolling learners. The first cohort will launch in the fall of this year.