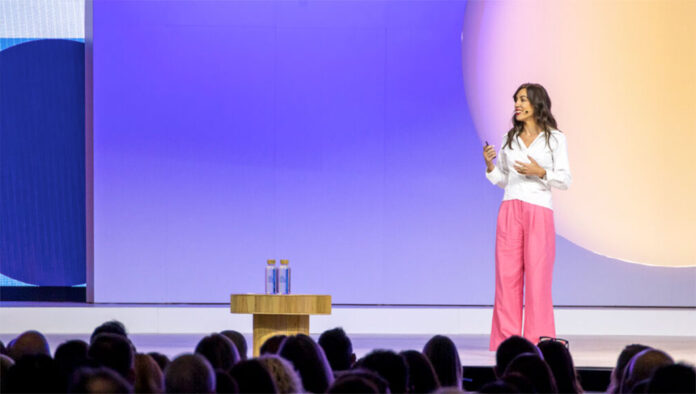 IBL News | New York
Microsoft's owned LinkedIn networking platform presented this month at its Talent Connect 2023 in New York City a set of AI-powered tools to enhance its services and help employers hire qualified candidates as well as develop workers' skills faster and more effectively.
Currently, conducting a search requires learning a unique search language, but with generative AI, LinkedIn Recruiter will be able to search across all of LinkedIn's data and find candidates with the relevant skills for the job.
The platform might recommend searching in new locations or suggest that a role should be hybrid to provide better access to candidates who are right for the job.
"We can no longer hire and develop our people using the strategies and tools of the past," said Jennifer Shappley, LinkedIn's Vice President of Talent said [In the picture, above].
This AI-assisted recruiting tool is being launched now to a select set of customers and will be rolled out completely in 2024.
On the other hand, starting this week, LinkedIn Learning's users will be able to engage with a new AI-powered chatbot.
According to the company, this virtual coach offers real-time career advice as well as content recommendations aimed at helping employees develop their skills. Initially, the tool will focus on leadership and management.
The LinkedIn Learning Coach asks questions to better "understand" a learner's specific situation or goal rather than providing one-size-fits-all answers. The chatbot then gives personalized answers and suggests courses, covering both soft skills and technical skills.
Here is an example of a conversation: "My CEO asked me for feedback. How should I respond?"
The chatbot, in turn, asked questions, much like a live coach. After some back and forth, the chatbot advised on how to answer and named the sources of the advice provided. The whole process took two minutes.
Marketing will also be getting an AI boost, specifically with a new product called Accelerate It will be to let people run campaigns on LinkedIn more easily.
Inside Sales will be an AI tool with a search function to help find those potential connections then more easily and enter conversations with those leads.