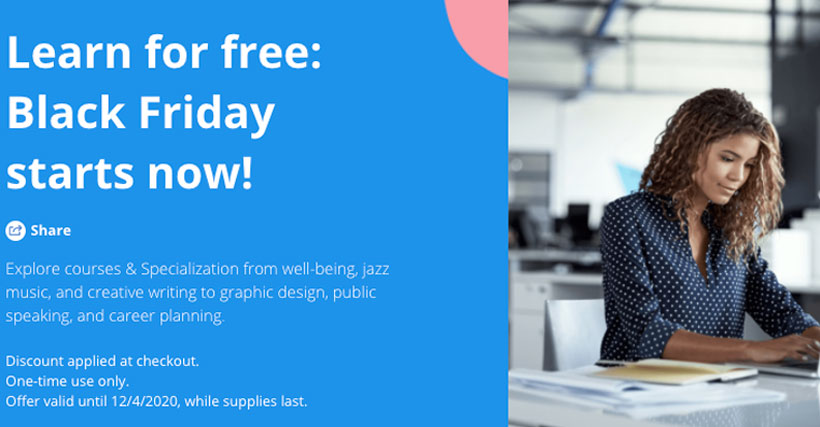 IBL News | New York
Black Friday, Cyber Monday, Cyber Week, and deals pertaining to the shopping season after Thanksgiving Day are running all over the online learning platforms.
For learners planning their career advancement through education now is a good time to engage at a discounted pricing.
Coursera.org has activated a season promotion until December 31, 2020, with a 50% discount on any course. On some of the courses, the offer finishes on December 4. This online platform is using the promotional explanation of

 

"while supplies last".

Udacity.com wasn't shy and advertised on its home page the following: "Our Biggest Discount Ever: 75% off all online courses." Visitors found, along with a coupon code, a claim saying "Sale extended", without any indication of the timeframe.
Udemy.com opted with its classic discount on the pricing of the courses, adding this year, a free webinar. "Courses as low as $9.99 through Dec. 4. Plus, get free access to a live webinar!"

Pluralsight.com prominently highlighted on its home website, and invested in Google Ads as well, its "Cyber Monday Extended" with a "40% off an annual subscription with our best Cyber Monday deal ever!" An indication at the bottom of the page indicated that the deal was ending this Friday.
Skillshare.com ran discount coupons up to 40% on third party websites for Black Friday and Cyber Monday, although "Valid until further notice". Also, it had a 40% off a Skillshare Premium on Cyber Monday.
CodeAcademy.com featured a "Cyber Week Sale", with 25% off on its membership.
Kindle, Audible, Babble, and other platforms run promotional offers, too.