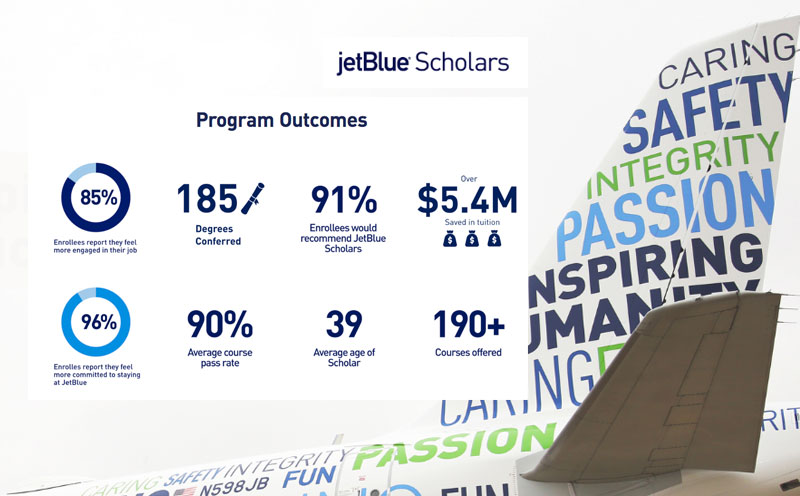 IBL News | New York
JetBlue is expanding its JetBlue Scholars program to provide crew members a way to earn online master's degrees at discounted rates of $13,000 to $30,000.
Participants will be able to seek degrees in leadership, business, information technology, aviation management and liberal arts from City University of New York School of Professional Studies, Louisiana State University Shreveport, Thomas Edison State University, University of Maryland University College and Western Governors University.
Since launching the program in 2016, more than 185 employees have earned a degree and over 700 crew members are currently enrolled. The completion rate is 93 percent, and the average time to complete a bachelor's degree is 16 months.
"Our partner institutions share similar values with JetBlue and together we're removing some of the complexity from the process. The online format allows flexibility, and low costs combined with specialized support is a great combination for our Scholars to earn advanced degrees at their own pace. These new Master's Pathways will open up even more opportunities for crewmembers," said Rachel McCarthy, head of talent and learning at JetBlue.
The JetBlue Scholars program also utilizes alternative college credit options, including new technology-based learning platforms like Study.com, Sophia.org, and StraighterLine.com.
JetBlue has joined a growing number of companies to offer employees access to certificates and online degrees as a corporate benefit.