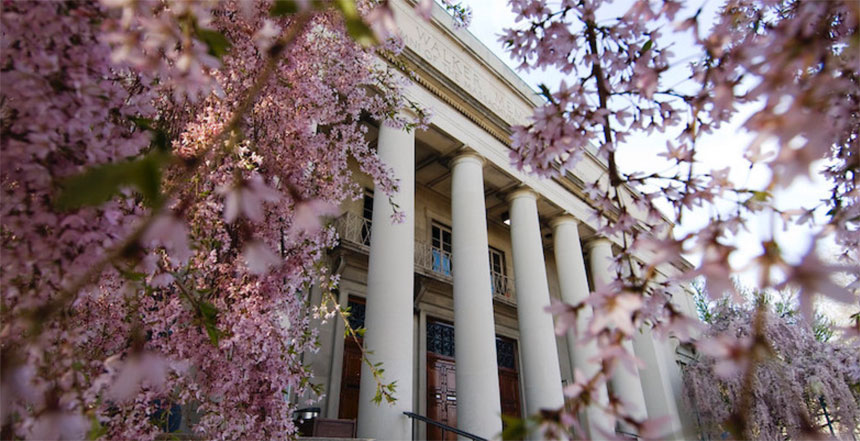 IBL News | New York
The new, yet-unnamed, educational nonprofit that MIT and Harvard will govern together and will continue to own, advance, and enhance Open edX, MIT said yesterday. It's expected to be a very different venture from the existing edX Inc, which will be owned by purchaser 2U, becoming a subsidiary registered as a public benefit company.
It will start with a whopping amount of $800 million in cash paid by 2U and the property of the Open edX software. "It will explore new ways to make online learning more effective, engaging, and personalized," said MIT.
Once the transaction is completed, within the next four months, "the nonprofit will aim to do what edX could not: invest at the necessary scale to sustain Open edX as a fresh, vital, open-source learning platform for the world, and tackle the next great research challenges in online learning."
"It could, for example, invest in the potential of artificial intelligence to make online learning more responsive and personalized to the individual learner."
According to MIT's President, L. Rafael Reif, the nonprofit mission, focus, agenda, aspirations, and research program will be developed following consultation with faculty of both MIT and Harvard.
A non-disclosed part of those $800 million in proceeds that 2U paid for the edX brand, course catalog, business, and partners, will be used "to repay a recent line of credit from MIT and Harvard."
MIT and Harvard revealed that over the years they contributed $80 million total ($40 million each) to edX. The two institutions said that "they will not recoup those funds from the sale."
However, the influx of hundreds of millions of dollars will go to the new non-profit venture. The new venture will keep a non-defined number of employees of the existing edX. Others will work for 2U. The role of CEO Anant Agarwal is not clear yet.
"He will have many options and opportunities to consider, including potentially with the public benefit company edX or the nonprofit MIT and Harvard will govern," MIT said.
MITx Online Will Use the Open edX Software
On the other hand, MIT Open Learning will develop a new world-facing platform called MITx Online, which will host only the institute's MOOCs. It will not aggregate content generated by other universities. MITx Online will use the Open edX software. OpenCourseWare and the Open Learning Library will continue working.
2U's "Marketing Advantages"
In the meantime, publicly-traded 2U elaborated on the marketing advantages that it will achieve.
Through a set of slides [PDF download], 2U executives told investors and reporters that the deal will harness the  "marketing engine" of their company with the well-known brand and course marketplace of edX, especially in terms of client acquisition's cost.
2U predicts it could convert 0.03% of edX's users into paying customers. This would lower its marketing costs by $4,000 per enrollment and save 2U $40 to $60 million annually.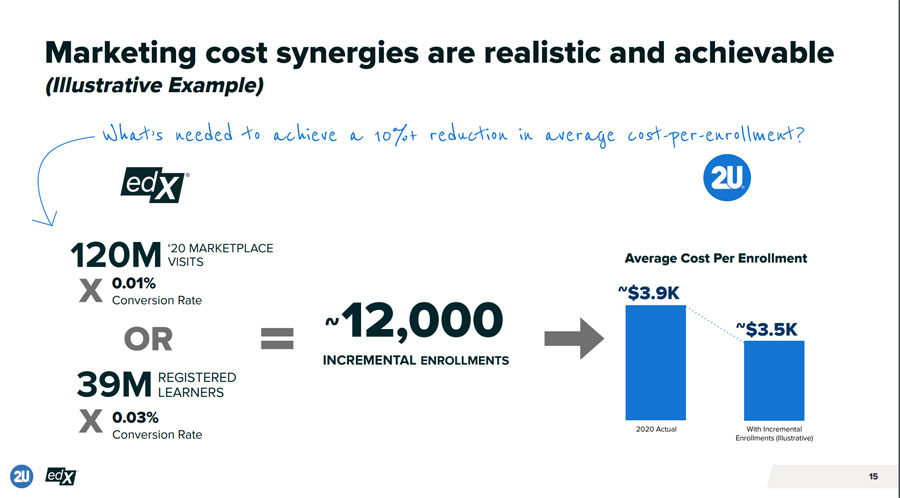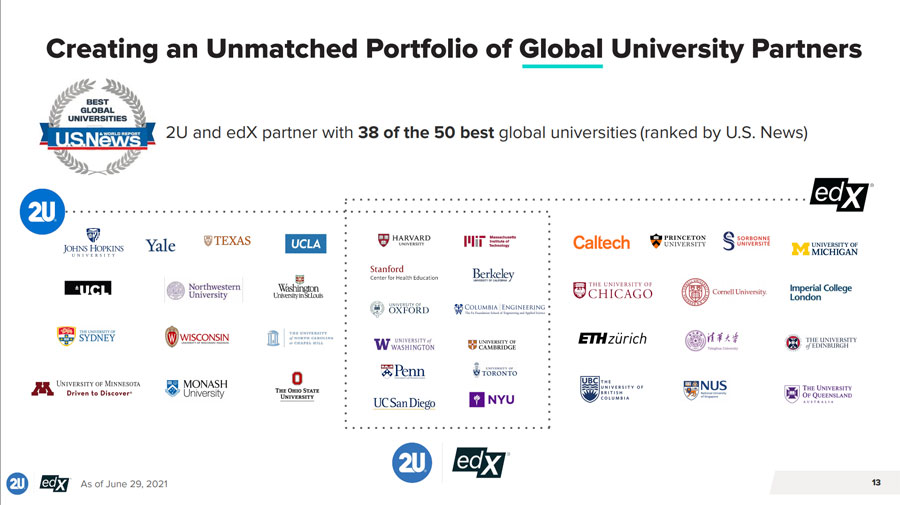 [Disclosure: IBL Education, the parent company of the IBL News service, uses Open edX software on its platform, and provides custom ecosystems to organizations mentioned in this report and other firms.]
• IBL News, June 29, 2021: 2U Buys MIT's and Harvard's edX Platform for $800M; Open edX Software Kept as Non-Profit