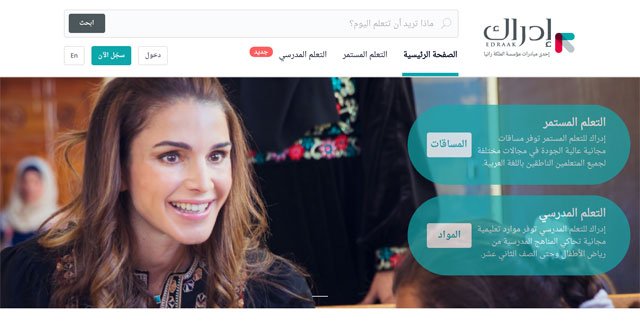 Edraak.org, the Queen Rania Foundation's educational site, has announced its expansion into K-12, in order to meet the needs of school-aged children across the Arab world. The project has been powered by a $3 million grant from Google.org as well as support from Google employees on product design.
When fully released by 2020, its digital curricula and learning resources, developed in the Arabic language, will include Mathematics materials for grades 7 and 9, with over 1,200 minutes of video lectures.
These open educational resources will be designed to align with national curricula in the MENA region, which accounts more than 15 million children out of school as a result of armed conflicts and displacement.
The platform, based on Open edX software, will also offer tools and resources for parents and educators, empowering them to guide children's learning journey.
Edraak CEO Shireen Yacoub stated that "the new platform builds on the success of Edraak's existing platform for adult learners, which has reached over 1.5 million learners across the Arab world since its launch in 2014".