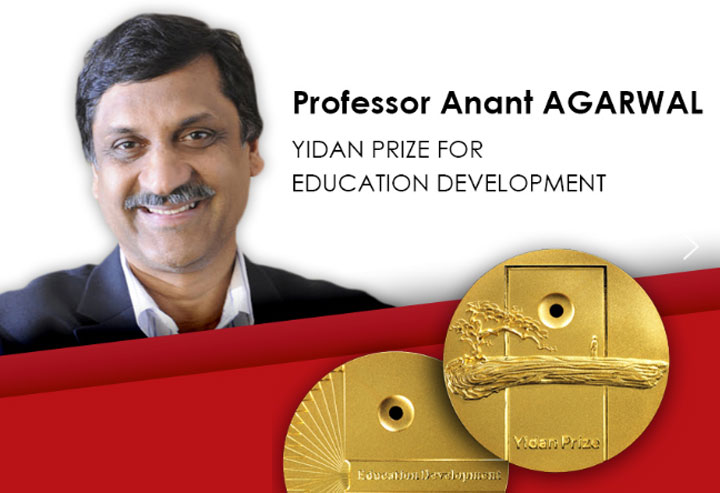 The Yidan Prize Foundation granted this month the 2018 Yidan Prize for Education Development to edX CEO, Anant Agarwal. Mr. Agarwal was recognized for making education more accessible to people around the world via the edX online platform.
The Yidan Prize judging panel, led by former Director-General of UNESCO Koichiro Matsuura, invested six months to consider over 1,000 nominations spanning 92 countries.
Simultaneously, Larry V. Hedges of Northwestern University received the Yidan Prize for Education Research for his groundbreaking statistical methods for meta-analysis.
Founded in 2016 by Charles Chen Yidan, the Yidan Prize aims to create a better world through education.
The Yidan Prize for Education Research and the Yidan Prize for Education Development will be awarded in Hong Kong on December 10, 2018, by Mrs. Carrie Lam Cheng Yuet-Ngor, chief executive of the Hong Kong Special Administrative Region.
Following the ceremony, the laureates will be joined by about 350 practitioners, researchers, policymakers, business leaders, philanthropists, and global leaders in education to launch the 2018 edition of the Worldwide Educating for the Future Index (WEFFI), the first comprehensive index to evaluate inputs into education systems rather than outputs, such as test scores.
Dorothy K. Gordon, chair of UNESCO IFAP and head of the judging panel, commended Professor Agarwal for his work behind the MOOC  movement. "EdX gives people the tools to decide where to learn, how to learn, and what to learn. It brings education into the sharing economy, enabling access for people who were previously excluded from the traditional system of education because of financial, geographic, or social constraints. It is the ultimate disrupter with the ability to reach every corner of the world that is internet enabled, decentralizing and democratizing education.''
Vice President for Open Learning Sanjay Sarma praised edX for creating a platform "where learners from all over the world can access high-quality education and also for enabling MIT faculty and other edX university partners to rethink how digital technologies can enhance on-campus education by providing a platform that empowers researchers to advance the understanding of teaching through online learning."
In the past six years, edX built a community of over 17 million learners from around the world; partnered with more than 130 prestigious universities, institutions and corporations; and continue to make the edX platform available for free as Open edX open source software.
The Open edX platform has been adopted by 1600 sites, where over 20 million additional people learn every day.