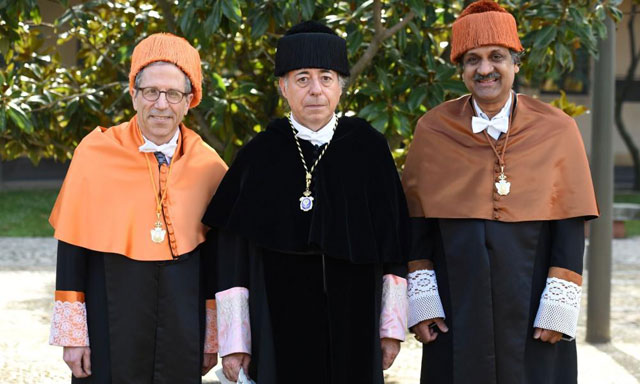 Anant Agarwal, CEO at edX and MIT professor, received last Friday the title of Doctor Honoris Causa from the Carlos III University of Madrid. During the same event, celebrated at Getafe's campus in Madrid, this university conferred the honorary doctorate title to Eric S. Maskin, a professor at Harvard University and a Nobel Laureate in Economics.
Universidad Carlos III de Madrid (UC3M) conferred the title of doctor honoris to both professors "in recognition of their outstanding scientific and academic achievements."
The tribute to Anant Agarwal was given by Professor Carlos Delgado Kloos, from the Department of Telematic Engineering, whereas the tribute for Eric S. Maskin was undertaken by Professor Luis Corchón, from the UC3M Economics department.
"In addition to his teaching and research into computer architectures, digital circuits, and filter design, Anant Agarwal also stands out for his face as an entrepreneur. In recent years, "he has become a key figure in digital information," highlighted Professor Kloos.
"Anant established the challenge of educating a billion people in 10 years and is one of the most important leaders in this area, having received all of the prizes and awards possible related to MOOCs and digital education," added professor Delgado Kloos.
.@UC3M has worked hand-in-hand with @edXOnline to increase access to education to our global community of learners. It is a privilege to partner with an institution that is driven by the same mission as edX – providing high-quality education to everyone, everywhere. https://t.co/ApntOOwUI4

— anant agarwal (@agarwaledu) February 16, 2018