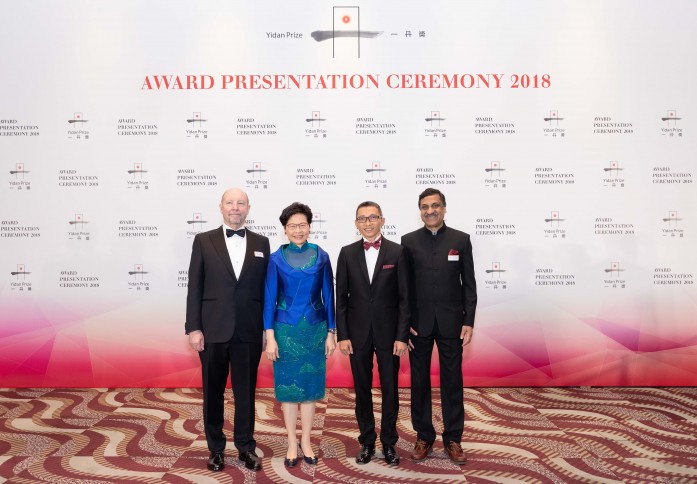 Anant Agarwal, CEO of edX, and Larry Hedges, Chair of the Department of Statistics at Northwestern University, were honored this week in Hong Kong and respectively received the 2018 Yidan Prize for Education Development and 2018 Yidan Prize for Education Research, which comes with a gold medal and a whopping amount of $3.87 million (HK$30 million) for each.
Dr. Charles Chen Yidan, Founder of the Yidan Prize, along with Mrs. Carrie Lam, the Chief Executive of the Hong Kong Special Administrative Region, witnessed by 350 guests, presented the 2018 Yidan Prize for Education Development and Yidan Prize for Education Research, during a ceremony which took place on December 10.
Anant Agarwal said: "We're really honored and fortunate to have won the Yidan Prize. We want to use the prize money to launch radical new efforts that would enable much younger learners, both at the late high school and college level, to get radically increased access and quality for their learning. edX today has 18 million students from every single country in the world, and I would love to see in the fullness of time, billions of students routinely accessing a quality education like this and education being affordable for everybody everywhere with a will to learn." 
Larry Hedges, renowned for his development of the statistical methods for meta-analysis (SMMS), said: "I am honored to be the Yidan Prize laureate and I'm going to use whatever I gain from this prize to try and increase the profile of evidence in education for the purposes of improving education. It's important that we avoid any mistakes that can be used to discredit education, to discredit evidence in education science, because there are people who would prefer to make policy decisions on the basis of preferences and superstitions and prejudices rather than on the basis of evidence."
The Yidan Prize, the world's largest award in education, was established in 2016 by Chinese philanthropist and entrepreneur Charles Chen Yidan, a co-founder of Shenzhen-based giant Tencent. This year the prize saw around 1,000 nominations from over 92 countries.
The Yidan Prize consists of two awards: the Yidan Prize for Education Research and the Yidan Prize for Education Development. The Yidan Prize Laureate receives a gold medal and a total sum of HK$30 million (around US$3.9 million).
Half of this amount is in the form of a cash prize to the laureate, while the other half is a project fund, according to the official press release. To ensure transparency and sustainability, the prize is managed by Yidan Prize Foundation and governed by an independent trust with an endowment of HK$2.5 billion (around US$323 million).
Corporate Announcements:
• Asia One: Hong Kong's Chief Executive Honors Two Outstanding Scholars for Their Contributions to Education Reform at Yidan Prize Award Presentation Ceremony
• Asia Corporate News Network – ACN Newswire: Second Yidan Prize Summit Sets Forth Ideas for Future
Over the weekend our CEO @agarwaledu accepted the @TheYidanPrize for Educational Development in Hong Kong. Thank you to Charles Chen Yidan and the Yidan Prize Foundation for this incredible recognition of @edXOnline and our work to advance access to education worldwide! pic.twitter.com/JJEuPmeMv0

— edX (@edXOnline) December 10, 2018