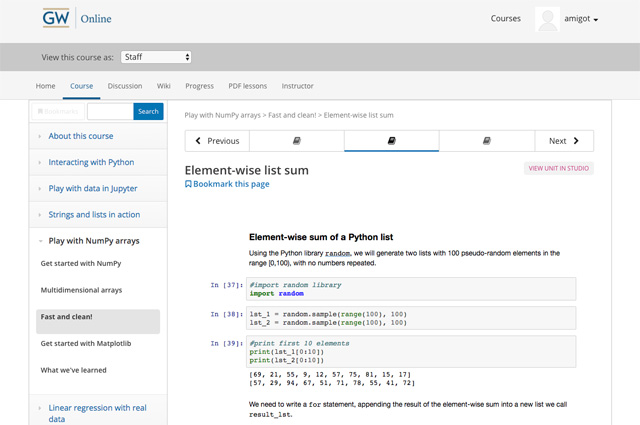 George Washington University's Professor Lorena Barba has announced the release of the Jupyter Viewer XBlock for the Open edX platform. This tool, developed in collaboration with IBL Education, allows to dynamically display content from a Jupyter notebook available on a public URL. It is available now as open source software on GitHub.
Prof. Barba used the XBlock in the second half of her course module, Get Data Off The Ground with Python.
"Jupyter is a killer app for education. Many people are writing lessons, tutorials, whole courses and even books using Jupyter. It is a new genre of an open educational resource (OER). What if you want to create an online course on Open edX using content originally written as a Jupyter notebook? You certainly don't want to duplicate the content, much less copy-and-paste. This XBlock allows you to embed the content dynamically from a notebook available on a public URL," said Prof. Lorena Barba.
"This is the first of a series of integrations between Jupyter Notebooks and Open edX. It takes care of the code visualization problem, especially that which distinguishes between inputs and outputs," said Miguel Amigot, CTO at IBL Education.
Along with this XBlock, Lorena Barba and Miguel Amigot will present during the 2018 Open edX conference (May 29-31, Montreal, Canada), a solution for grading student work submitted as an uploaded notebook.