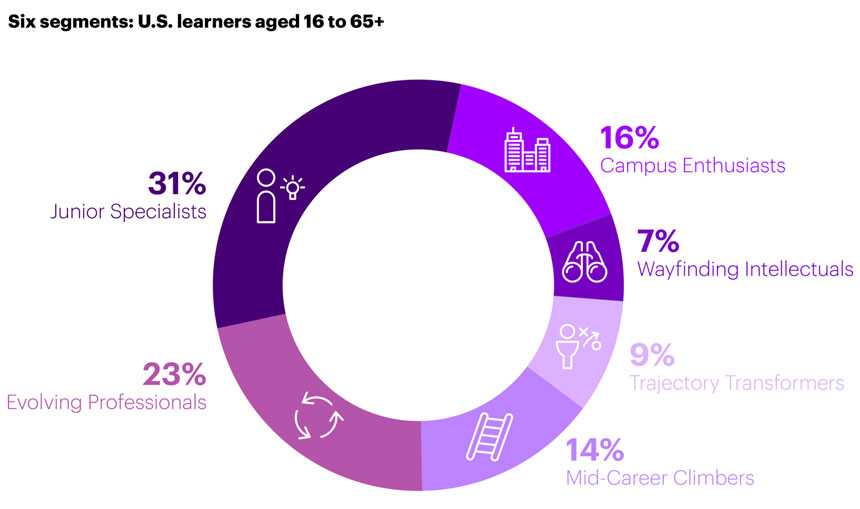 IBL News | New York
Research from Accenture, 'Serving all students: A survey of learner mindsets', offered a deeper understanding of higher education students and opportunities for institutions after the COVID pandemic.
Changes already underway — such as a reduced pool of "traditional" students, the need for lifelong credentialing and skilling, and the rise of alternative education providers — accelerated.
"Education institutions, now more than ever, are looking to evolve how they serve existing students as well as how they adapt to serve new student segments," said Samantha Fisher, Managing Director of Accenture's Education Practice.
"Learning and acquiring new skills across a workers' career is increasingly essential for employees and organizations to flourish, and the challenge demands a deeper understanding of learning mindsets."
The survey by Accenture conducted a survey of 6,500+ post-secondary learners revealed six distinct segments of learners, clustered based on learning mindsets, goals, and emotions rather than demographic factors or type of institution — as noted in the graphic above.
"Campus Enthusiasts" representing 16% of respondents, are academically-oriented young people, seeking an immersive and exploratory college experience. They are generally full-time students, with social and career extracurriculars, and most will be seeking their first professional job upon degree completion.
"Wayfinding Intellectuals" representing 7% of respondents, are working toward their first degree, highly driven by intellectual curiosity, and often interested in staying within academia. They seek a more traditional learning experience, preferring in-person enrollment and learning.
"Junior Specialists" are the largest cluster, representing 31% of respondents. They are motivated by real-life application of coursework, internships, and building networks to enter an identified field upon graduation. Most are enrolled or plan to enroll in a four-year institution full-time and committed to pursuing a degree in a professional field, such as healthcare or business. They tend to be relatively more reliant on loans and scholarships, have lower-incomes, and be less interested in school culture and social opportunities.
"Evolving Professionals" representing 23% of respondents, have higher incomes and more work experience. Driven by intellectual curiosity, they are looking to expand their interests and career options rather than developing specific skills tied to their employer. Many are studying technology or business. A majority are pursuing a traditional degree, but a sizable minority are enrolled in or intend to enroll in a certificate program. They tend to be older than the previous three segments, and many have started families.
"Mid-Career Climbers" representing 14% of respondents, seek to advance their careers through special credentials closely tied to their current or a future employer. They tend to work full-time, and place a premium on program flexibility (e.g., full online or online hybrids), and are the most likely group to enroll in certificate programs and institutions outside of colleges and universities.
"Trajectory Transformers" representing 9% of respondents, are striving to achieve career advancements by changing roles or industries by obtaining specific skillsets in a short amount of time. They focus heavily on value and potential outcomes, are the oldest group with the most work experience, and are among the most price-sensitive learners. Many are or will be first-generation college students.