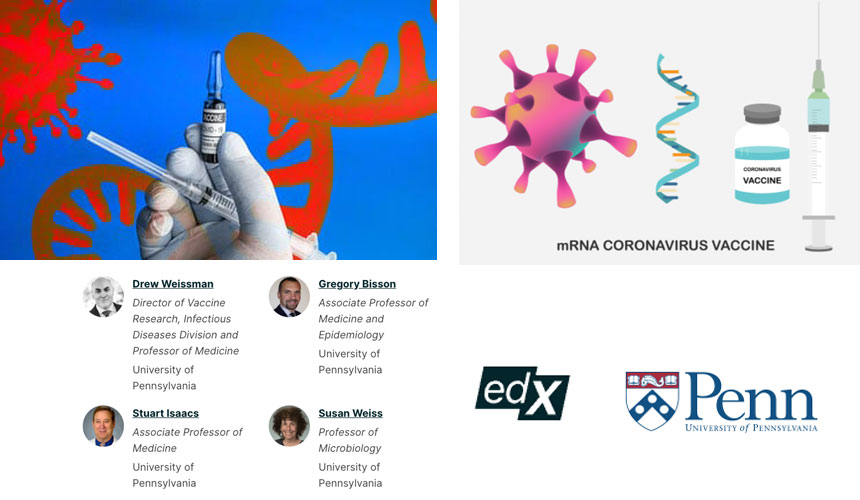 IBL News | New York
edX and the Perelman School of Medicine at the University of Pennsylvania (Penn) will launch on May 25 a course about the science behind mRNA vaccines and their potential to radically change the way diseases are fought in the future.
The COVID-19 Pandemic and the Use of mRNA Vaccines course is taught by Dr. Drew Weissman, professor of Infectious Diseases at Penn Medicine, a pioneer of the mRNA vaccine technology.
Dr. Drew Weissman's groundbreaking research forms a foundational part of the two mRNA vaccines from Pfizer/BioNTech and Moderna against Covid.
Now Weissman and researchers across Penn are investigating mRNA vaccines and treatments for HIV, influenza, and cancer.
The short, free 6-hour course is designed for non-medical professionals looking to understand more about mRNA vaccines.
"This is our opportunity and responsibility to give millions of learners access to experts and education that can help them be informed, global citizens," said Anant Agarwal, CEO and Founder at edX.
"Education is a critical component of science," said Weissman. "My colleagues and I are thrilled at the impact mRNA vaccines are having on the world right now, and I'm excited to share my professional passion with people who take the course."
The Pfizer/BioNTech and Moderna COVID-19 mRNA vaccines use licensed University of Pennsylvania technology. As a result, Penn and Dr. Weissman have received and may continue to receive significant financial benefits in the future.