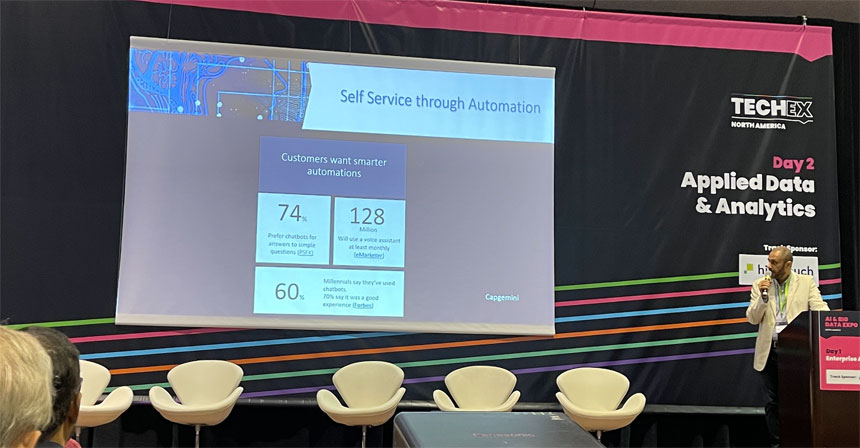 IBL News | Santa Clara, California
AI-based automated self-services are increasingly expanding and the response of the audience is being favorable. 74% of customers prefer chatbots for answers to simple questions, and almost a similar number of millennials say that it was a good experience.
This data was revealed during the Big Data Expo North America Conference, which took part this week in Santa Clara, California.
Adhar Walia, an expert on conversational AI products and currently a product manager working for CVS Health [in the picture above], said that 128 million people use an AI voice assistant at least monthly.
Natural Language voice assistants and speech recognition are currently used to engage and capture the audience's attention, drive natural human-like conversations, and meet customers.
Artificial Intelligence and Machine Learning solutions are being widely adopted by the industry.
These are the industry-specific solutions according to experts:
Ecommerce & Retail:
– Cross-sell, upsell
– New Product Sourcing
Finance and Banking:
– Credit Scoring
– Fraud Detection
– Portfolio Analysis
Productivity
– Object Detection
– Voice Analysis
Healthcare
– Early disease detection
– Identify at-risk patients
– Healthcare cost optimization
Security
– Anomaly Detection
– Biometrics
Transportation Logistics
– Theft Prevention
– Remote Monitoring